Waste
Brighton Council Waste Transfer Station
The Waste Transfer Station is currently operating as normal during the COVID-19 situation.
131 Cove Hill Road
Bridgewater TAS 7030
Fri – Mon from 8.30am to 4.30pm
Tues – Thurs – CLOSED
Christmas Day and Good Friday – CLOSED
Waste Transfer Station Charges
To view Brighton Council's Waste Transfer Station Charges for the current Financial Year, please visit Fees and Charges.
Waste Oil Collection Facility
Brighton Council operate a bunded oil recycling facility located at the Waste Transfer Station. The purpose of the bunded oil recycling facility is to:
Encourage recycled oil collection at the Waste Transfer Station
Increase the service provision to the general community of the type and nature of services to the waste management facility in general; and
Protect our local environment, including the Derwent and Jordan Rivers
Household Waste and Recycling
Brighton Council offers fortnightly kerbside garbage, recycling and FOGO bin collections.
Please ensure your bins are at the kerbside ready for collection by 6am on your day of service.
Please use map below to select your collection area.
Recycling
Please click here for simple guidelines on recycling:
Do's and Don'ts – Kerbside Recycling
Items That Can Be Collected:
Cardboard/paper
Newspapers
Milk cartons (washed)
Glass bottles (washed)
Aluminium and Steel cans
PET and HDPE plastic bottles
Recyclable products are only collected if placed in the Council marked recycling bin.
Items which cannot be collected:
Car batteries
Engine oil
Cooking oil
Soiled paper (eg dirty nappies)
Soiled cardboard items (eg pizza boxes)
Plastic bags
Please click here for an A-Z of Recycling
If recycling is not collected because it does not comply with requirements, a sticker detailing reasons will be attached to your recycle bin. Please dispose of these items in your wheelie bin. However, car batteries, engine oil and paints can be recycled if taken to the Waste Transfer Station.
Ever wondered what happens to your recycling once it gets collected? Watch this video and find out what happens at the Material Recovery Facility.
What happens to your recycling when it reaches the MRF
For more information on collection days, missed collections or replacing a recycle bin phone the Brighton Council Customer Service on (03) 6268 7000.
Not sure what to do with small batteries, old mobile phones or light globes lying around at home? You can recycle them at the recycling booth in the foyer at our Brighton Council Offices, 1 Tivoli Road, Old Beach.
The waste booth is part of Council's strategy to reduce waste to landfill and increase awareness of the benefits of re-using and recycling everyday objects. Did you know that recycling 1 million mobile phones could recover 10,000kg of copper, 300kg of silver and 30kg of gold?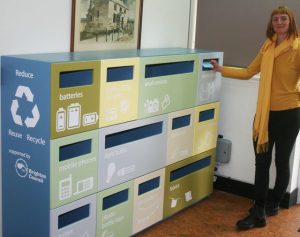 The full list of items that you can bring in to be recycled in the waste booth include:
• X-rays, which contain precious silver
• Toner cartridges
• Light bulbs – LED round globes as well as fluoro globes, though please be careful not break them and release the gases
• Batteries – flat batteries can be used to make more batteries
• DVDs/CDs and tapes
• Small e-waste, which contain valuable metals
• Decorations – for example Christmas lights will be reused into local art projects
• Fabrics, such as clean towels and linen
• Plastic bottle tops
• Stationery
• Soft plastics, such as plastic bags and lolly wrappers, which are NOT to go in your recycle bin
The items will be recycled through various national recyclers such as MobileMuster and Planet Ark, as well as local waste recycling companies.
To request a new or replacement waste or recycling bin please complete this online form:
Bin requests can also be made by contacting Brighton Council Customer Service on (03) 6268 7000 between 8.15am and 4.45pm (Mon – Fri).  There may be a fee associated with this replacement.
If you are the tenant of the property, the owner/property manager is required to complete and sign this form as there may be some additional costs involved with the replacement of the bins
Council offers a delivery service for new and replacement garbage and recycle bins every Wednesday.
NEW GREEN AND HARD WASTE COLLECTION DATES – COMMENCING OCTOBER 2022
Brighton Council offers a FREE Green and Hard Waste collection service to help residents dispose of unwanted items* and green waste. This service is free for residents who currently receive a kerbside rubbish collection.
From October 2022, Green/Hard waste collections will be conducted at the end of April and October each year.  The upcoming collection dates will be:
Week commencing Monday 24 October 2022
Week commencing Monday 24 April 2023
* Please note that vehicle tyres, fridges, freezers and mattresses are no longer accepted as part of these collections.  All these items can be taken to the Waste Transfer Station for a fee.
How to get your Green/Hard Waste collected:
Waste must be placed on the nature strip the night before collection is due
Items must be able to be lifted by two men
All hard waste items must not exceed two metres in length
All items such as tree branches and cuttings must be tied in 20kg or less bundles and a maximum of 1.5m in length and 20cm in diameter
Loose materials must be bagged
Items such as rubble, soil, rocks and concrete will not be collected
HARD WASTE AND GREEN WASTE ARE TO BE KEPT SEPARATE
Total volume of items must not exceed 2m3.
Please do not endanger Council staff or contractors by leaving broken glass, asbestos and chemicals out for collection (these items will also not be collected).
Bookings are not required.
If you have waste to be collected please place the waste outside on your nature strip the night before the collection is due. For more information, please contact the Brighton Council on (03) 6268 7000.
Remember, this service is only available to residents who currently receive kerbside collection.